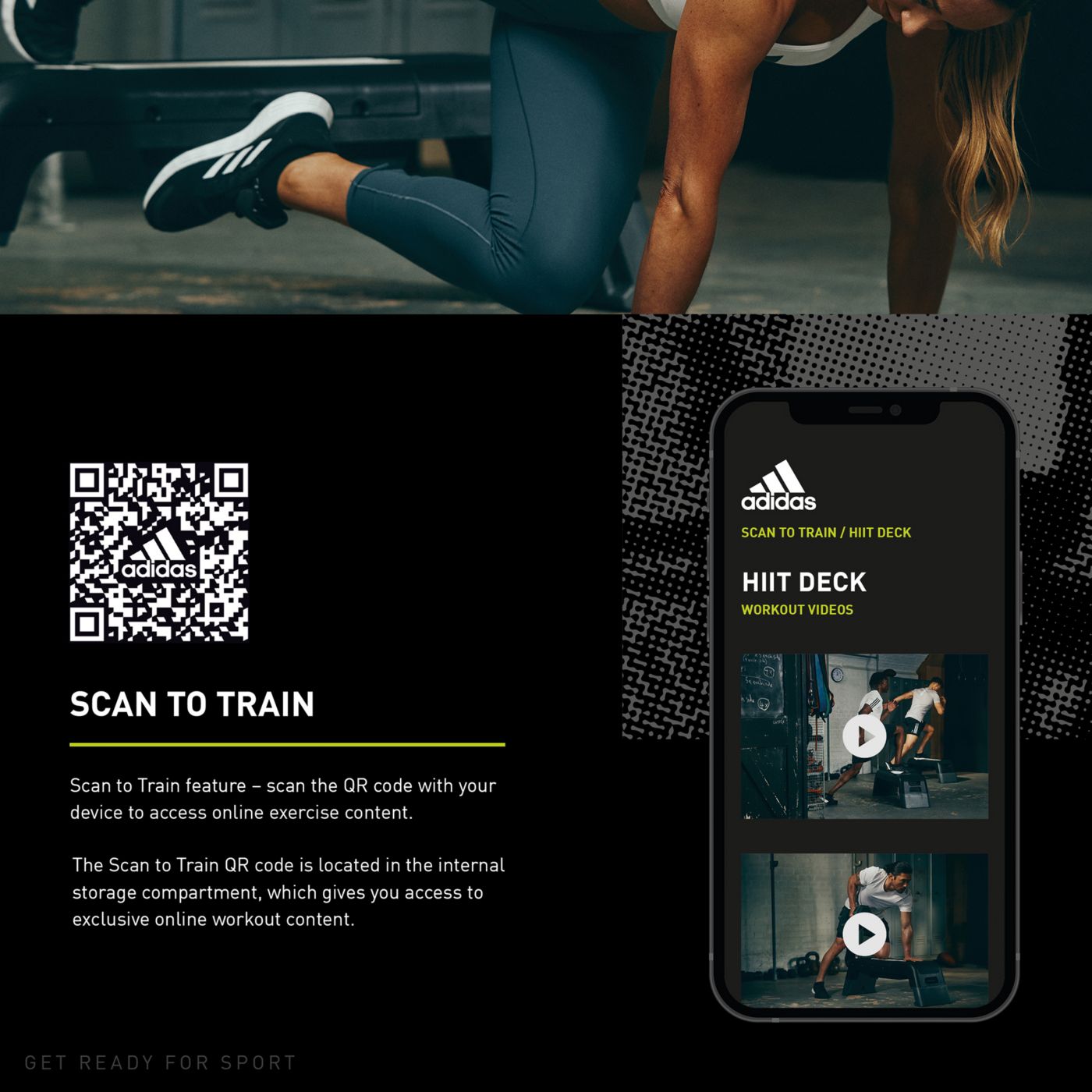 Scan to Train
 Ideal for Home Workouts
Access to Free Online Video Workouts
Scan to Train feature – scan the QR code with your device to access online exercise content.
The Scan to Train QR code is located in the internal storage compartment, which gives you access to exclusive online workout content.
The adidas HIIT Deck combines an aerobic fitness step and weight bench into a compact, unique, configurable workout platform.
3 Position Bench Support: Incline, Decline and Flat
2 Levels of Height Adjustment: 20 & 35 cm / 7.8 & 13.7 "
4 Backrest Positions with Quick Slide & Lock Adjustment
With more than 20 setup configurations built into its patented design, the HIIT Deck takes your strength and cardio workouts to the next level. Meet your definitive High-Intensity Interval Training partner.
Quickly switch between incline, decline and flat bench settings and easily make height adjustments to boost the effectiveness of your exercises.
Surface
High-Grip Workout Surface
Provides Traction to Step, Jump, Press and Lunge
Comfort & Stability for Weighted COMFORT & STABILITY FOR WEIGHTED EXERCISES
The high-grip workout surface provides both the traction you need to step, jump, press and lunge, as well as the comfort and stability required for bench pressing and other weighted exercises.
Accessories
Resistance Tube and Skipping Rope Included
Fitness Accessory Storage Compartment
Enhance your workouts even further by incorporating any number of training accessories with the HIIT Deck.
To help get you started, a resistance tube and skipping rope are included within the internal storage compartment.
Any number of additional fitness accessories can be incorporated into your Deck workouts to help you get the results you want.